HOW ENHANCED TAX DEDUCTIONS IMPACT YOU
In December 2015, Congress passed a permanent extension of enhanced tax deductions for food donations. When donating inventory of wholesome food to charity, Section 170(e)(3) of the U.S. Tax Code stipulates that businesses are eligible for tax deductions, up to 15% of their net income.
In many cases, the tax deductions received from donating surplus product are greater than the tax shield that is earned from liquidating or disposing of the goods. Download our infographic to discover how enhanced tax deductions fit into your business.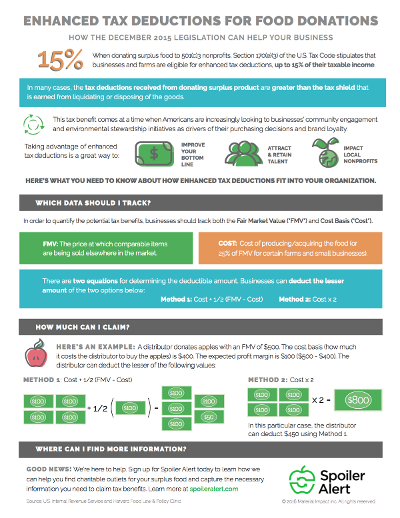 In this in download, you'll find:
Which data you should track for effective tax deduction documentation
An example that illustrates how much you can claim
Where to find more information about donating surplus food