Why address unsold inventory today?
This document points out the differences between status quo distressed inventory practices, versus managing distressed and unsold inventory to recover the greatest value from products. It answers questions like:
How do you compare bottom-line improvements from shrink reductions to additional top-line revenue from increased sales?
What factors enable greater value recovery from distressed and unsold inventory?
What operational and financial benefits can I create for my business?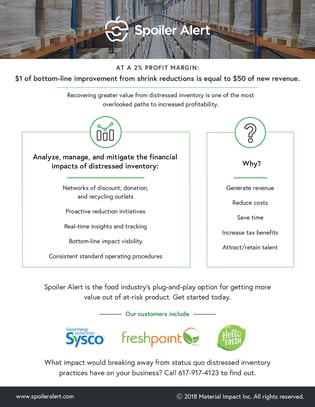 additional resources:
Starter Pack: What are the financial impacts associated with recovering greater value from distressed and unsold food inventory? [Download PDF]
Spoiler Alert's Blog
Want to know more? Schedule a 15-minute chat with a Spoiler Alert specialist today.